Well, sorda. I'm not a Ravens fan at all. But I need to cheer for someone this Super Bowl and I'd much rather see the Ravens hoist the Lombardi Trophy over the 49ers. It should be obvious to anyone by now who reads my blog that I prefer lists. They just help me organize my thoughts (something crucial with my ADD). So, here are my top 5 reasons why I'll be a Ravens fan this Super Bowl.
1. As a Saints fan, the ghost of 49ers teams past still haunt me. Those squads were the bane of every Saints fan back in the 80s and 90s before the divisions were realigned. It seemed that no matter how great of a record the Saints managed, the 49ers always one-upped them. For example, in 1992 the Saints finished the season 12-4 but still ended up 2nd in the division since the 49ers went 14-2. So frustrating.
2. Battle of the Harbaughs – There are many reasons in my mind to choose John over Jim, too many in fact for me to go over. So, I'll sum up all my reasons with this: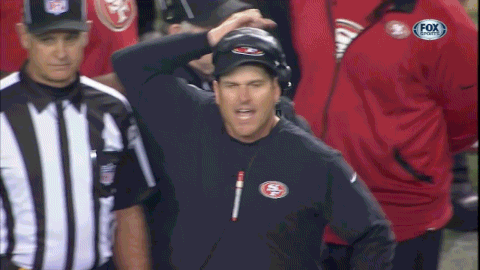 Who would ever want to cheer for that?
3. Ed Reed – I'd really like to see him get a Super Bowl ring. One, he's a future Hall of Famer. Two, he actually attended a high school in the same district as mine during the one year I played high school football. He was pretty good then if I remember right. That might seem like a silly reason to cheer someone on, but it's still one of mine.
4. Colin Kaepernick – Yes, he's stepped in and had a pretty good year (better than I expected). However, I'm really sick of hearing about him. He's still too inconsistent and doesn't have enough games under his belt for me to crown him the next big thing. If he's still playing this way next year or the year after when defenses and coaches have compiled more film on him, then so be it. But for now, I keep wondering if he's going to fizz out like most of the other "next big things."
5. The 49ers are just really good. No one likes to cheer for the dominant team unless that team is yours. The Ravens aren't likely to start some new dynasty with their current aging roster. However, I can see the 49ers doing so as they have a pretty young team. Not good if your team is in the NFC like mine.
So, who are you rooting for?